Aug 27, 2015 Press Release
Bipartisan Lawmakers Kick Off September National Awareness Month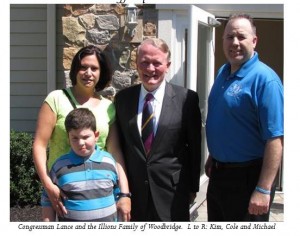 Congressman Leonard Lance (NJ-07) today announced his partnership with Congressman André Carson (IN-07) to serve as the bipartisan co-chairs of the Congressional Pediatric and Adult Hydrocephalus Caucus. Hydrocephalus is a debilitating neurological condition that affects over 1 million Americans. The Caucus will focus on increasing awareness and education and encouraging more research into its diagnosis and treatment.
"Hydrocephalus is a tremendous public health challenge of which there is no single known cause or ways to prevent or cure the condition. Education, research and communication are key tools to understand and confront Hydrocephalus and the Congressional Hydrocephalus Caucus will be a platform for those discussions. One out of every 500 babies in the United States is born with hydrocephalus, making the condition the leading cause of brain surgery in children. Additionally, an increasing number of our veterans are developing post-traumatic hydrocephalus as a result of brain injuries suffered on the battlefield," said Lance, a member of the Energy and Commerce Health Subcommittee.
Congressman André Carson (IN-07) added, "I am pleased to join Rep. Lance in announcing the launch of the Caucus in the 114th Congress. Many families in my district in Indiana are affected by hydrocephalus. I look forward to working with the other caucus members and dedicated advocates to raise awareness of hydrocephalus and encourage more innovative research to improve diagnosis, treatments, and cures."
Michael Illions, a Woodbridge resident and a leader in the Pediatric Hydrocephalus Foundation said, "Congressman Lance and Congressman Carson continue to show their support for the Hydrocephalus Community. We look forward to working closely with the Congressional Pediatric and Adult Hydrocephalus Caucus as it continues to grow. We thank them for their leadership of the Caucus."
"I thank Congressman Carson for joining me in this effort and I commend the hard work of Michael and Kim Illions of Woodbridge, New Jersey for their advocacy on behalf of their son, Cole, and helping to lead this national conversation," concluded Lance.
September is National Hydrocephalus Awareness Month. Recognizing the month of September as National Hydrocephalus Awareness Month brings public attention and encourages the discussions necessary to address more effectively the devastating effects of this disease and provide support to families who live with it every day.
Source: