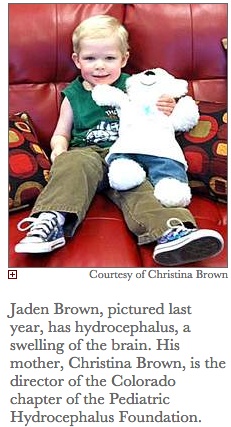 Durango city councilors were set to approve Tuesday a proclamation drafted by Christina Brown that adds hydrocephalus to the crusades, causes and campaigns for which September is recognized.
Brown, whose son, Jaden, 4, has the condition, gained a similar proclamation last summer from Gov. John Hickenlooper. September was designated National Hydrocephalus Awareness Month by Congress in 2009.
Hydrocephalus, found in about 1 in 500 births, is a swelling of the brain caused by the accumulation of the fluid that surrounds the brain and spinal cord.
Brown, chairwoman of the state chapter of the Pediatric Hydrocephalus Foundation, said Tuesday that a 5-kilometer walk fundraiser for the cause is scheduled Sept. 20 in the Three Springs area.
The 5K walk begins at 10 a.m. at the plaza, 175 Mercado St., near Mercy Regional Medical Center. Walkers can register starting at 9 a.m.
Online registration can be done at http://www.active.com/donate/phfwalkco2014
daler@durangoherald.com
Source: