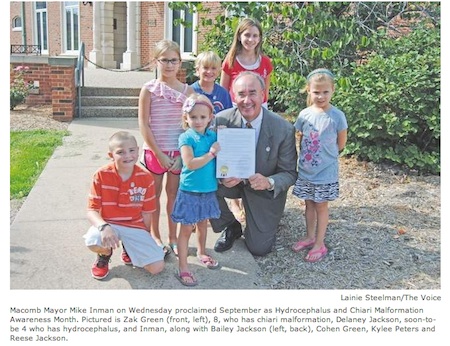 MACOMB —
The mothers of two Macomb children with rare medical disorders have banded together to raise awareness.
On Wednesday, Carol Jackson and Mandi Green, joined Macomb Mayor Mike Inman to declare September as Hydrocephalus and Chiari Malformation Awareness Month.
Jackson's daughter, Delaney, who will turn 4 in September, has hydrocephalus and Green's son, Zak, 8, has been diagnosed with chiari malformation.
Hydrocephalus is a life-long condition in which an excess of fluid accumulates in the cavities of the brain.
Delaney, Zak and some of their respective family members joined Inman for the official proclamation.
In an emergency surgery when Delaney was 9 months old, a plastic shunt was implanted in her brain to drain away excess fluid.
Delaney had another surgery in February 2012 to replace the shunt and in October of that same year got an infection from the shunt.
She spent a month at OSF St. Francis Hospital in Peoria while recovering.
Today Delany is doing well, according to Carol.
Green described chiari malformation as, "in simple terms, his skull is too small for his brain." The condition causes brain tissue to expand into the spinal canal.
Zak had a surgery in July in which some parts of his vertebrae were removed. Chiari malformation, according to Green, causes debilitating headaches and neurological pain.
The Green family will join the Jackson family at the 5K fall fun run/walk for hydrocephalus awareness, set for Sept. 13.
The cost is register is $25 for adults 18 and older and includes a race T-shirt. Children's registration is $10 and also includes a shirt.
Those who register after Sept. 1 will not be guaranteed a shirt on race day.
Packet pick-up and late registration will be from 4:30 to 6:30 p.m. at Alan Thompson's State Farm Insurance Office, 623 E. Jackson St.
Same-day registration will be from 7:45 to 8:30 a.m. at the Old Dairy, 201 S. Lafayette St. The event will begin at 9 a.m. Runners, joggers and walkers are encouraged to participate. Strollers are welcome.
Register online for the event at www.active.com/donate/phfrunil2014.
For more information, e-mail Carol Jackson at carol@hydrocephaluskids.org.
Reach Lainie Steelman via email at lsteelman@McDonoughVoice.com, or follow her on Twitter @LainieSteelman.
Source: