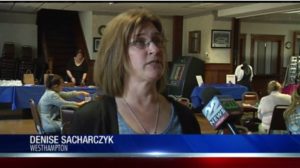 EASTHAMPTON, Mass. (WWLP) – One Hampshire County parent prays that one day science finds a cure to the disease that's afflicted her daughter since birth.
Denise Sacharczyk of Westhampton organized a fundraiser Sunday at the American Legion Post 224 in Easthampton. Her daughter suffers from Hydrocephalus, or as it is more commonly called, "water on the brain."
Sacharczyk told 22News, "My daughter has had 23 brain surgeries because of that. She lives with chronic pain, any day not being able to walk. A couple of times, she's had surgeries and learned to walk all over again."
Sacharczyk is active in the Pediatric Hydrocephalus Foundation on behalf of her daughter and other young people suffering from "water on the brain."
It's estimated that out of 1,000 newborns, two will be afflicted by this disabling condition.
Source:

MEET MATTHEW CAMPUZANO
Toddler Matthew Campuzano From Pennsylvania Joins His Big Sister as 2017 National Ambassador for Incurable Brain Condition
Matthew was born in April 2015, our fifth baby. He was diagnosed with Hydrocephalus at 20 weeks, and he developed in uterine very similarly to Julia.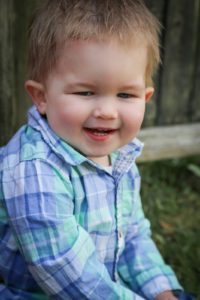 Once again, the Doctor's prepared us for the worst, but we knew that Matthew would be a fighter like his big sister. He was born at 35 weeks, and he spent a few weeks in the NICU to receive his first shunt and get over the hurdles of prematurity.
Matthew still has the shunt that was placed when he was 3 days old. It's been working wonderfully for him. He has been receiving physical therapy since he was 6 weeks old, but he will be discharged very soon!
At 18 months, he is walking and talking up a storm. He is the family comedian, and he makes us laugh all the time! Matthew became a big brother this past summer, and he loves our new baby so much!
At this point, while we know it's there, they have not found the genetic cause for Julia and Matthew's Hydrocephalus. We need more research so we can make advancements!
MEET JULIA CAMPUZANO
6-Year-Old Julia Campuzano From Pennsylvania Joins Her Brother as 2017 National Ambassador for Incurable Brain Condition
Julia was born in October of 2010. She was our third child and the first girl! Our second son had passed away as an infant from a heart defect. At 20 weeks into my pregnancy, Julia was diagnosed with ventriculomegaly. As the pregnancy continued, the Doctor's confirmed that she had severe Hydrocephalus.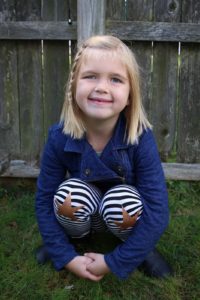 We were told she may never walk, talk, see or function like an average child. We waited patiently for her arrival. She was born at 33 weeks, and she came out screaming. At 6 days old she received her first shunt. At 6 weeks old, she developed an infection and had her second and third surgery to remove and place a new shunt. She also developed epilepsy at this age.
Julia has now had 5 brain surgeries, and she has come through them all with flying colors. She was behind in gross motor skills for the first two years of her life, but now she is doing wonderfully. Her epilepsy has given us a lot of trouble as we've navigated the vast array of medications and side effects, but she is well-controlled for now.
She is now 6 years old and loving kindergarten. She is beginning to read and share her joy with the world. She is a special child who can cheer you up on your worst days.
We can't wait to see what the future holds for her!
PHF September 30th Hydrocephalus Awareness Money Bomb
"One Day….. One Donation"
MAKE YOUR DONATION TODAY!
Click to Enter the Hydrocephalus Awareness MONEY BOMB Donation Website!
PHF September 30th Hydrocephalus Awareness MONEY BOMB!!!
"ONE DAY….. ONE DONATION"
The Pediatric Hydrocephalus Foundation (PHF), the nation's #1 advocate for children with Hydrocephalus, needs your help Today for our 4th Annual Hydrocephalus Awareness MONEY BOMB to raise funds for our amazing initiatives & Hydrocephalus research project funding rolling out in 2016 and beyond!
The PHF is dedicated to raising the level of awareness of this incurable brain condition, providing support to those who are diagnosed with Hydrocephalus, and most of all raising money to help fund a cure and better treatment options for our loved ones fighting this battle!
We need your help TODAY to make it our best month ever for fundraising.
So we're asking everyone to participate again, in the 4th Annual Hydrocephalus Awareness MONEY BOMB TODAY so we can end this year's Hydrocephalus Awareness Month with a bang, and keep the momentum going for the next few months and into 2017!
If every supporter of the PHF who believes in our mission and wants to support the outstanding success we have had as advocates for children and families affected by Hydrocephalus contributes TODAY, we'll have a record-breaking fundraising success.
We are counting on you to contribute and push the PHF to new heights!!! Click below, and thank you for your generosity!!!
Join us for this special On-Line Fundraising event- PHF's Hydrocephalus Awareness MONEY BOMB!
"ONE DAY….. ONE DONATION"
As your making your donation, don't forget to use the "comment" field to give a shout out to your Hydro Hero!
The Pediatric Hydrocephalus Foundation is a non-profit 501 (c) (3) non-profit charitable organization. All donations are tax-deductible.
Click to Enter the Hydrocephalus Awareness MONEY BOMB Donation Website!
WESTHAMPTON — When Isabella Sacharczyk was about a month old, she was diagnosed with hydrocephalus, an incurable condition known as "water on the brain." Doctors told her parents she would not be able to walk, talk, hear or see, and recommended that Isabella be put in a home for children with those disabilities.
"We chose not to," her mother Denise Sacharczyk said. "We were going to do whatever we had to do to give her the best quality of life."
Today, 18-year-old Isabella is a senior at Hampshire Regional High School. She is ranked 16th in her class with a 3.95 grade point average and aspires to become a medical researcher.
To raise awareness and money for hydrocephalus research, Isabella and her mother are hosting a fundraising walk at Hampshire Regional High School from 10 a.m. to 1 p.m. Saturday through the nonprofit Pediatric Hydrocephalus Foundation.
After searching for a support group, about three years ago, Isabella and Denise became involved with the organization, and now head the Massachusetts state chapter. Last year, the mother and daughter hosted their first walk at the high school. About 80 people attended and the event raised about $6,000.
The cause of hydrocephalus can vary person to person.
Isabella's hydrocephalus was due to damage from E. coli meningitis and a related stroke.
A shunt is surgically placed to drain fluid from the brain and release pressure. Isabella has two of the devices which move fluid from one part of the body to another.
"Pretty much the shunt saves her life," Denise said. "Without it she would die."
Isabella has had 23 brain surgeries due to malfunctions or complications related to the shunt, with six of those surgeries were in 2011.
"One in three shunts don't make it six months," before malfunctioning, Isabella said. "So the odds aren't great."
After one surgery in 2013, Isabella had to learn how to walk again.
"She could be perfectly fine today and tomorrow she could be in the emergency room," her mother said.
Isabella has trouble with fine motor skills, walks with a cane and experiences headaches on a daily basis. She cannot take notes in school and her memory is not great, but she spends hours studying at home, using notes provided by her teachers.
For exercise, Isabella rides a tricycle, though she joked that she "managed to fall off." Her mother bought a matching one to go on rides with her daughter.
"I don't let my condition hold me back," Isabella said.
The "Funding a Cure for Hydrocephalus" walk on Saturday will feature a bounce house, music, concession stands and a raffle. Students can volunteer at the event for community service hours.
To register or donate, visit active.com/donate/phfwalkma2016.
Source: