Comments Off on Fairfield Couple Co-Hosts ZenRide Benefit To Honor Their Little Girl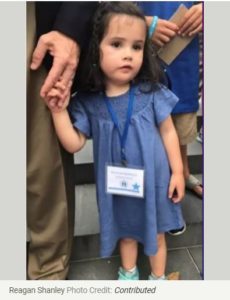 FAIRFIELD, Conn. — ZenRide Spinning Studio and Fairfield residents Cindy and Tim Shanley on Oct. 22 will present the 3rd annual "Biker-Barre" to help fund a cure for hydrocephalus, a brain condition the Shanleys' little girl lives with every day.
Located at 869 Post Road, ZenRide will offer a spinning and Bar Method combo class at 3 p.m. After that, participants can stay on for refreshments and a silent auction to benefit the cause.
All proceeds will go to the all-volunteer Pediatric Hydrocephalus Foundation.
The Shanleys support the effort to honor their daughter, Reagan — "Rae Rae" to her friends and family — who has hydrocephalus, and to raise both awareness and research dollars.
The last two Biker-Barre events have raised almost $20,000 each.
The event's success allowed the Shanleys to create the Reagan Sloane Shanley Scholarship for applicants interested in neuroscience and/or engineering who have a special interest in better understanding hydrocephalus, cerebral spinal fluid and the brain.
A $40 donation reserves a bike for the spinning class.
To register, visit zen-ride.com/reserve.
To make a donation, visit active.com/donate/phfzenride2017.
To learn more about hydrocephalus, visit www.HydrocephalusKids.org.
Source:

Comments Off on PHF in The News: Fairfield Woman Inspired To Run Half-Marathon By Friend's Daughter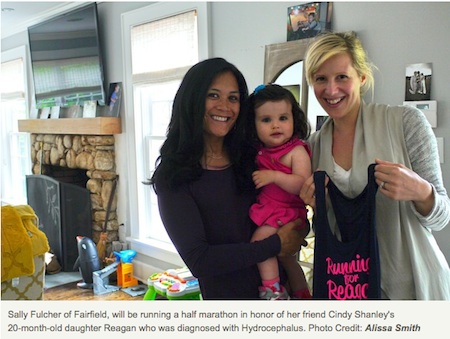 FAIRFIELD, Conn. – For the past four months, Sally Fulcher of Fairfield has been training to run her first half-marathon this Sunday. But her goal goes beyond tackling the 13.1-mile course: She is seeking to raise awareness for an incurable disease affecting her friend's young daughter.
For Cindy Shanley, the past year has been filled with doctor's visits, hospital stays and a constant awareness of the brain disorder hydrocephalus, which afflicts her 20-month-old daughter, Reagan.
The painful condition causes an abnormal amount of spinal fluid to build, widening spaces in the brain. It can cause increased pressure inside the skull and progressive enlargement of the head as well as other problems. It can be fatal.
"There is no cure for this," Shanley said. The only treatment is surgical, to release the fluid built up in the brain. Even at her young age, Reagan, she said, has already had two surgeries to reduce the amount of fluid in her brain.
Some children are born with hydrocephalus and others develop it. The condition is most common in infants and affects nearly one in every 500 births. Reagan seems to have developed the problem.
"What Sally is doing is to raise awareness." Shanley said. She and her family are grateful for the time and effort that Fulcher is putting in to help their cause.
Always a runner, Fulcher said she has not done any long-distance runs since having children and has never run far as a half-marathon.
But having the motivation to raise money for awareness and research for her friend's second child pushed her into running the Stratton Faxon Fairfield Half, which benefits the Pediatric Hydrocephalus Foundation.
"I knew this was a great cause," Fulcher said. Before Reagan was diagnosed, she said she had no idea that the condition even existed.
"This is the longest I've ever run," Fulcher said. "And it's a pretty hilly course."
But she's hoping the weather will be on her side Sunday and won't be too hot as she hits the course.
So far, Fulcher's donation page has raised over $4,800, nearly double her initial goal. Donations can still be made online.
Source: