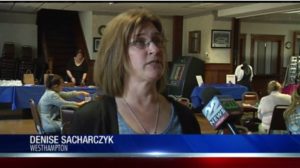 EASTHAMPTON, Mass. (WWLP) – One Hampshire County parent prays that one day science finds a cure to the disease that's afflicted her daughter since birth.
Denise Sacharczyk of Westhampton organized a fundraiser Sunday at the American Legion Post 224 in Easthampton. Her daughter suffers from Hydrocephalus, or as it is more commonly called, "water on the brain."
Sacharczyk told 22News, "My daughter has had 23 brain surgeries because of that. She lives with chronic pain, any day not being able to walk. A couple of times, she's had surgeries and learned to walk all over again."
Sacharczyk is active in the Pediatric Hydrocephalus Foundation on behalf of her daughter and other young people suffering from "water on the brain."
It's estimated that out of 1,000 newborns, two will be afflicted by this disabling condition.
Source:

WESTHAMPTON — When Isabella Sacharczyk was about a month old, she was diagnosed with hydrocephalus, an incurable condition known as "water on the brain." Doctors told her parents she would not be able to walk, talk, hear or see, and recommended that Isabella be put in a home for children with those disabilities.
"We chose not to," her mother Denise Sacharczyk said. "We were going to do whatever we had to do to give her the best quality of life."
Today, 18-year-old Isabella is a senior at Hampshire Regional High School. She is ranked 16th in her class with a 3.95 grade point average and aspires to become a medical researcher.
To raise awareness and money for hydrocephalus research, Isabella and her mother are hosting a fundraising walk at Hampshire Regional High School from 10 a.m. to 1 p.m. Saturday through the nonprofit Pediatric Hydrocephalus Foundation.
After searching for a support group, about three years ago, Isabella and Denise became involved with the organization, and now head the Massachusetts state chapter. Last year, the mother and daughter hosted their first walk at the high school. About 80 people attended and the event raised about $6,000.
The cause of hydrocephalus can vary person to person.
Isabella's hydrocephalus was due to damage from E. coli meningitis and a related stroke.
A shunt is surgically placed to drain fluid from the brain and release pressure. Isabella has two of the devices which move fluid from one part of the body to another.
"Pretty much the shunt saves her life," Denise said. "Without it she would die."
Isabella has had 23 brain surgeries due to malfunctions or complications related to the shunt, with six of those surgeries were in 2011.
"One in three shunts don't make it six months," before malfunctioning, Isabella said. "So the odds aren't great."
After one surgery in 2013, Isabella had to learn how to walk again.
"She could be perfectly fine today and tomorrow she could be in the emergency room," her mother said.
Isabella has trouble with fine motor skills, walks with a cane and experiences headaches on a daily basis. She cannot take notes in school and her memory is not great, but she spends hours studying at home, using notes provided by her teachers.
For exercise, Isabella rides a tricycle, though she joked that she "managed to fall off." Her mother bought a matching one to go on rides with her daughter.
"I don't let my condition hold me back," Isabella said.
The "Funding a Cure for Hydrocephalus" walk on Saturday will feature a bounce house, music, concession stands and a raffle. Students can volunteer at the event for community service hours.
To register or donate, visit active.com/donate/phfwalkma2016.
Source:

Glen Ridge resident Colette Umar seems like a typical twenty year old. She hangs out with friends, attends school and even has a plan for after graduation. "I've always wanted to work with children and I've always liked school. I plan to study early childhood education and then work with little kids." A stark difference between Colette and most of her peers, though, is that she has undergone fifteen brain surgeries to help control the excess cerebral spinal fluid collecting around her brain. Colette has hydrocephalus.
According to the National Institute of Neurological Disorders and Stroke, it's estimated that one to two out of every thousand babies is born with hydrocephalus. In infants, this condition can cause symptoms like: an unusually large head, vomiting, irritability and seizures. It's often congenital, though it can develop at any age for a variety of reasons. The most common causes of hydrocephalus include: spina bifida, a tumor on the spinal cord or brain, certain infections and traumatic brain injuries. It can lead to neurologic issues and even death if not treated.
Many parents learn of their child's diagnosis while still pregnant or just after birth. Colette's parents found out that she had hydrocephalus while she was in utero. Her first surgery, when a shunt was inserted into her brain to redirect the excess spinal fluid to a part of her body that could absorb it, took place when she was merely one day old. Her fifteenth surgery was completed when she was in the second grade. "Most of my surgeries were shunt revisions," she explained, "which is normal for people with this disorder. Shunts aren't perfect and they don't last forever." The Pediatric Hydrocephalus Foundation (PHF) website asserts that an average of 40,000 shunt operations occur each year.
Colette explained that aside from learning delays, hydrocephalus has not interfered with her life too much. Most of her friends know about her condition and are willing to learn more. She also hasn't had as many surgeries as some others with the condition, so she's able to see her friends more. She added, "In more severe cases, people don't always know how to react to the person with hydrocephalus. And if they have many surgeries, they aren't around to build those friendships. They spend a lot of time in the hospital."
It's this lack of understanding that has spurred Colette's advocacy efforts. While in middle school, she realized that she wanted to learn more about this condition and she wanted others to know about it, too. In high school, she initiated faculty dress down days to spread awareness and then started participating in walks for the PHF. She has also raised money for PHF by making and selling jewelry and decorated flip flops. Twice, she has travelled to Washington DC with PHF to educate members of Congress and to try to secure research funds. During her last trip, she along with other NJ residents, met with staffers from Senator Booker and Senator Menendez's offices and with a representative of Congressman Payne. Colette added "I hope that all this hard work will result in me seeing a cure for hydrocephalus in my lifetime!"
If you would like to get involved, visit the PHF website to learn more or to donate.
Source:


High School Teenager Collette Umar talks about her experience on Capitol Hill for the Hydrocephalus Awareness Day event
Read the full story: Last Friday, September 23, Glen Ridge High School student Colette Umar delivered a speech in Washington, DC at the first Congressional Adult and Pediatric Hydrocephalus Caucus.
The caucus, was co-chaired by Congressman Leonard Lance and Congressman Tim Walz along with the Pediatric Hydrocephalus Foundation. It was held in the Cannon building and was attended by members of Congress, aides, medical experts, foundation personnel and families affected by hydrocephalus.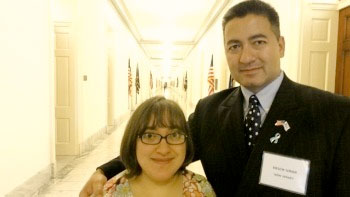 Collette and her father Erich Umar.

Title
LOCAL PROFILE: Sawanda Spinks, President of Georgia Pediatric Hydrocephalus Foundation

Read the full story by Eden Godbe: ATLANTA – Sawanda Spinks was eight-months-pregnant when she learned her first child would be born with hydrocephalus.
"I had never heard of it; I didn't know what it was but when I heard the risks, I started crying; I couldn't take listening to that", she said.
Spinks had gone into the emergency room for a pulled muscle but when she left her life was changed, forever.
Hydrocephalus is a condition that affects 1-in-500 infants. The condition, also known as having "water on the brain", happens when fluid accumulates on the brain and in the skull cavities.
As any first-time parent would Spinks visited countless specialists, searching for good news, before she would give birth to her son a month later; she heard none.
"Doctors didn't give us much hope but they were doing their job, they're supposed to tell you the worst case scenario".