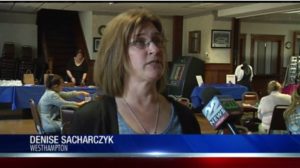 EASTHAMPTON, Mass. (WWLP) – One Hampshire County parent prays that one day science finds a cure to the disease that's afflicted her daughter since birth.
Denise Sacharczyk of Westhampton organized a fundraiser Sunday at the American Legion Post 224 in Easthampton. Her daughter suffers from Hydrocephalus, or as it is more commonly called, "water on the brain."
Sacharczyk told 22News, "My daughter has had 23 brain surgeries because of that. She lives with chronic pain, any day not being able to walk. A couple of times, she's had surgeries and learned to walk all over again."
Sacharczyk is active in the Pediatric Hydrocephalus Foundation on behalf of her daughter and other young people suffering from "water on the brain."
It's estimated that out of 1,000 newborns, two will be afflicted by this disabling condition.
Source:

WESTHAMPTON — When Isabella Sacharczyk was about a month old, she was diagnosed with hydrocephalus, an incurable condition known as "water on the brain." Doctors told her parents she would not be able to walk, talk, hear or see, and recommended that Isabella be put in a home for children with those disabilities.
"We chose not to," her mother Denise Sacharczyk said. "We were going to do whatever we had to do to give her the best quality of life."
Today, 18-year-old Isabella is a senior at Hampshire Regional High School. She is ranked 16th in her class with a 3.95 grade point average and aspires to become a medical researcher.
To raise awareness and money for hydrocephalus research, Isabella and her mother are hosting a fundraising walk at Hampshire Regional High School from 10 a.m. to 1 p.m. Saturday through the nonprofit Pediatric Hydrocephalus Foundation.
After searching for a support group, about three years ago, Isabella and Denise became involved with the organization, and now head the Massachusetts state chapter. Last year, the mother and daughter hosted their first walk at the high school. About 80 people attended and the event raised about $6,000.
The cause of hydrocephalus can vary person to person.
Isabella's hydrocephalus was due to damage from E. coli meningitis and a related stroke.
A shunt is surgically placed to drain fluid from the brain and release pressure. Isabella has two of the devices which move fluid from one part of the body to another.
"Pretty much the shunt saves her life," Denise said. "Without it she would die."
Isabella has had 23 brain surgeries due to malfunctions or complications related to the shunt, with six of those surgeries were in 2011.
"One in three shunts don't make it six months," before malfunctioning, Isabella said. "So the odds aren't great."
After one surgery in 2013, Isabella had to learn how to walk again.
"She could be perfectly fine today and tomorrow she could be in the emergency room," her mother said.
Isabella has trouble with fine motor skills, walks with a cane and experiences headaches on a daily basis. She cannot take notes in school and her memory is not great, but she spends hours studying at home, using notes provided by her teachers.
For exercise, Isabella rides a tricycle, though she joked that she "managed to fall off." Her mother bought a matching one to go on rides with her daughter.
"I don't let my condition hold me back," Isabella said.
The "Funding a Cure for Hydrocephalus" walk on Saturday will feature a bounce house, music, concession stands and a raffle. Students can volunteer at the event for community service hours.
To register or donate, visit active.com/donate/phfwalkma2016.
Source:


"Bella's Journey" is coming back to the Southern Tier.
Raymour & Flanigan, in Horseheads, will host the second annual local fundraising event in partnership with Pediatric Hydrocephalus Foundation and 17-year-old Bella Sacharczyk.
The teenager lives with hydrocephalus, an incurable brain disease. She has survived 23 brain surgeries. Sacharczyk's mission of raising awareness and money to fund research projects has resulted in a $7,000 research grant to one of the nation's top pediatric hospitals.
The local fundraiser will be held from noon to 5 p.m. July 10 at the store, 137 Colonial Drive in Horseheads. There will be live music, face painting, games, activities, bake sales, raffles, silent auctions and vendors.
The Pediatric Hydrocephalus Foundation, an all-volunteer, nonprofit charitable organization, educates the community by raising the level of awareness about hydrocephalus, and provides support to families, friends and children affected by this brain condition.
The PHF also raises money for and works with the medical community in searching for a cure and additional treatment options for those with hydrocephalus. Additionally, the PHF advocates on behalf of the members of the hydrocephalus community, and works with policy makers at the state and federal levels to raise awareness and push for more research and support in the fight against hydrocephalus. All donations are tax-deductible. Visit HydrocephalusKids.org for more information.
Follow Kelly Gampel on Twitter @theSGphotos or on Instagram @kelly.gampel
Source: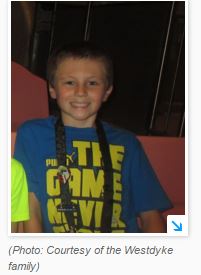 Jennifer Westdyke of Edison found out her son Jeffrey likely had hydrocephalus when she was 20 weeks pregnant. Her son, now 9, has battled the disease since birth, undergoing his first brain surgery when he was 3 years old and another two since then.
To raise awareness about this incurable brain condition, the Westdyke family is hosting a Funding a Cure for Hydrocephalus Pasta Dinner with the Pediatric Hydrocephalus Foundation on Sunday, Nov. 22, from 2 to 6 p.m. at the Edison Elks 2487 at 375 Old Post Road in Edison.
Hydrocephalus is a condition in which the primary characteristic is excessive accumulation of fluid in the brain, according to the National Institute of Neurological Disorders and Stroke. Some people think of hydrocephalus as "water on the brain;" however it is actually cerebrospinal fluid — a clear fluid that surrounds the brain and spinal cord, according to the institute.
Hydrocephalus can be acquired or congenital. The congenital form is present at birth and may be caused by either genetics or events that occurred during fetal development. Acquired hydrocephalus can develop at the time of birth or at some other point after because of injury or disease.
"There hasn't been any new technology in a long time," said Westdyke. "They are still using the same shunt technology from the 1950s."
She said compared to others with the disease, her son has been fortunate; he is highly functioning, attends regular classes in school and hadn't had many surgeries. "My son is not the norm. There are many children who have had 30 or 40 surgeries and have had many other problems as a result," she said.
Hydrocephalus is generally treated by surgically inserting a shunt system that diverts the flow of cerebrospinal fluid to another area of the body where it can be absorbed as part of the normal circulatory process.
The family's goal with the pasta dinner is to raise awareness about the disease and money to help research.
"Hydrocephalus is an incurable brain condition that affects one in ever 500 newborns, and over a million Americans," she said. "Adults affected include veterans coming home and football players with head injuries."
The pasta dinner will feature homemade food, entertainment and more.
"My mom and I rolled 500 meatballs, and my friend makes a great salad that everyone comes back for more," along with homemade desserts, she said. "We have a DJ, face painting, basket raffles, a 50-50 and vendors, who donate profits. It should be a very fun evening."
There will be a special appearance by MJX & The 2 Bad Crew Special Needs Dance Class.
It's all you can eat, and tickets are $10 per adult and $5 per child (4 and younger are no charge).
The Pediatric Hydrocephalus Foundation was founded in New Jersey in 2009 by four families, each having a child with this incurable brain condition, said Michael Illions, the organization's vice president and director of advocacy. The non-profit charitable organization's goal is to raise awareness about hydrocephalus and provide support to families, friends and children affected by the condition.
"This is our fifth dinner to raise money," he said. "We have been very successful in the past, drawing professional wrestlers doing autograph signings, dignitaries, even members of congress. The money is used for research. All of the money goes to that, as we are an all volunteer organization with no salaries."
The Woodbridge resident's son, Cole, was born with hydrocephalus, and he and his wife are among the organization's founders.
"We are hoping to raise $5,000," Illions added. "It's just one of the many events we do."
Other events include the annual New Jersey Walk & Family Fun Day for Hydrocephalus Awareness, which took place in September. This year's drew 350 people and raised more than $27,000 to fund research projects for better treatment options and to find a cure.
"We donate to hospitals all across the country," Illions said of how the funds raises are disbursed. "They send us research grant applications, and we evaluate each one."
His son, at the age of 10, already has had 13 surgeries.
"It really ranges how much children are affected," he added. "Not every child is the same. There is the possibility of global developmental delays. Some are more affected than others. My son is completely nonverbal."
Oftentimes, too, problems occur with the shunt, and it has to be fixed or redone. Sometimes surgeries can result in development delays or other complications.
Westdyke said her son didn't often talk about how having hydrocephalus had affected him. But earlier this year he did, when the the family traveled to Washington, D.C., to talk to staffers, congressman and senators about the disease.
"He said, 'I'm scared that when I go to sleep at night, I won't wake up in the morning.'" She added, "He gets it. I couldn't stop crying when I heard that."
For more information, visit www.hydrocephaluskids.org/wordpress/.
Tickets for the Nov. 22 dinner are available online at http://www.active.com/donate/phfpasta.
Source: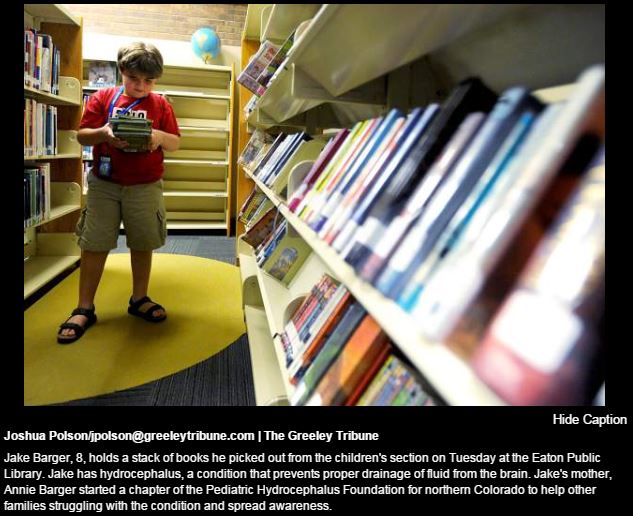 Jake Barger shakes his brown hair in front of his eyes at the Eaton Public Library as he talks about his favorite book series this week. It's a tie between Magic Tree House and The Boxcar Children. He decides right then to write a crossover novel. The 8-year-old wants to be a judge, a doctor and at this moment, he's decided to be a writer, too.
Jake's mom, Annie Barger, watches proudly as her son chatters away about his plans. By now, he's planning to bring The Avengers into his book. There might even be a movie deal, so he's added director to his future resume. At this point, Annie's eyes begin to tear up. Years ago, she didn't know if Jake would have much of a future.
Annie was seven months pregnant with Jake when an ultrasound showed hydrocephalus in his developing brain. Hydrocephalus, or simply, fluid on the brain, is a birth defect, affecting one or two babies out of every thousand, according to the National Institute of Neurological Disorders and Stroke. There are multiple kinds of hydrocephalus, but in Jake's case, one of the pathways in his brain where the natural fluid can drain is too narrow, causing it to build up. The Hydrocephalus Association estimates more than a million Americans live with the disorder. It's the most common reason for brain surgery in children, according to the association. Jake's first surgery, after all, came when he was 21 days old.
Jake was delivered via caesarean section at the University of Colorado Hospital in Aurora. The doctors told Annie and her husband, Paul, if he survived the delivery, he would be severely disabled all his life. After he was born, doctors told Paul they couldn't believe they were looking at the same baby they'd been observing in utero. He was too responsive and energetic. Jake's been surprising people ever since.
As well as Jake does, the defect still is a constant struggle. That's why Annie started the northern Colorado chapter of the Pediatric Hydrocephalus Foundation. She's in the process of organizing a fundraiser she hopes will take place by spring. The foundation raises money for hydrocephalus research and provides resources for those suffering from it, as well as education.
Annie's main goal is to teach people what hydrocephalus is and how to properly handle emergency situations with people like her child.
"Being very vigilant and very proactive in advocating for your children is something that I do, maybe more than I need to, but it's gotten us really far," she said. "He's the reason that we breathe."
Jake's had five surgeries. He has a shunt connecting the narrowing in his brain down to his stomach so the fluid can drain. The medical bills are endless, and so are the worries for Paul and Annie. They have to be hyper-vigilant. A headache or nausea could mean a shunt malfunction for Jake. If he complains of pain, or if he's having trouble finishing his meals, Paul and Annie have a three-day rule — for the three days following the incident, Jake has to take it easy.
For Jake, a bad respiratory infection could cause an infection along the tube, which could be life threatening. Though he hasn't had a seizure in years, another could always come. Even on a peaceful, happy morning, Annie fears what the afternoon might hold.
Another problem arises every time Jake steps out the door. Despite the commonness of hydrocephalus, not many know what it is or how to handle the disorder. Annie said she fights an uphill battle of education.
For example, once after a trip to the emergency room via an ambulance, a doctor insisted Jake showed symptoms of meningitis and wanted to give the boy a spinal tap. Because Jake's fluid drainage is regulated by his shunt, a quick shift like that caused by a spinal tap could give him a stroke, Annie said. The doctor wouldn't listen to her refusals and threatened to call child services if she wouldn't let him get the procedure.
In school, Jake's first-grade teacher exacerbated the behavioral issues that come with his disorder by refusing to listen to the medical reasoning or work with him on ways to improve. The hydrocephalus causes Jake to be a very linear thinker. He follows rules and does things as he is told. If he is told to use a blue marker to color a page one day, but then the next, he is told he can't use that marker, he can get frustrated.
Some teachers were very understanding, though. Jake's second grade teacher, Jen Delich, worked extensively with Jake to accommodate his needs and help him learn. Annie said she was incredible with him.
As Jake carried a big stack of Magic Tree House books to the front of the Eaton Public Library, Annie lagged behind, smiling as her boy struggled to balance the unwieldy load. He has no depth perception, but has learned to compensate for it, so it's hardly noticeable. When he's excited, he spins around in little circles, which he thankfully waited to do until the books were safely on the checkout counter. After the librarian scanned the barcodes and handed the heap back to Jake, he heaved them back into his little arms and hurried over to Annie to put them in the book bag.
"I'm training for American Ninja Warrior," he said, flexing his little boy muscles.
Add it to the job list.
Editor's note: This story has been edited from its original version to reflect the grade of one of Jake's teachers.
Source: