MEET JULIA CAMPUZANO
6-Year-Old Julia Campuzano From Pennsylvania Joins Her Brother as 2017 National Ambassador for Incurable Brain Condition
Julia was born in October of 2010. She was our third child and the first girl! Our second son had passed away as an infant from a heart defect. At 20 weeks into my pregnancy, Julia was diagnosed with ventriculomegaly. As the pregnancy continued, the Doctor's confirmed that she had severe Hydrocephalus.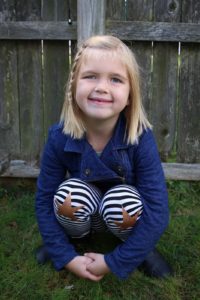 We were told she may never walk, talk, see or function like an average child. We waited patiently for her arrival. She was born at 33 weeks, and she came out screaming. At 6 days old she received her first shunt. At 6 weeks old, she developed an infection and had her second and third surgery to remove and place a new shunt. She also developed epilepsy at this age.
Julia has now had 5 brain surgeries, and she has come through them all with flying colors. She was behind in gross motor skills for the first two years of her life, but now she is doing wonderfully. Her epilepsy has given us a lot of trouble as we've navigated the vast array of medications and side effects, but she is well-controlled for now.
She is now 6 years old and loving kindergarten. She is beginning to read and share her joy with the world. She is a special child who can cheer you up on your worst days.
We can't wait to see what the future holds for her!