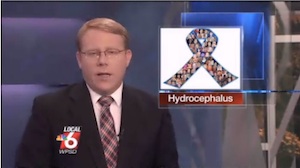 GRAVES COUNTY, Ky –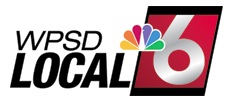 A local boy is fighting a lifelong, rare, incurable disease. Hydrocephalus or more commonly known as "water on the brain" is when fluid builds up inside the skull and leads to brain swelling.
Ten-year-old Payton Kraft often finds himself playing alone.
"Other kids don't understand what I go through. None of them do," said Payton.
"Payton was probably 3 to 4 months old and we noticed he wasn't progressing like normal children do. He was delayed," said Payton's mother, Sarah Wilson-Kraft.
That delay, had Payton's mom, Sarah panicked something was wrong.
"His head was extremely large for his age…They measured his head many of times and they sent us for a cat-scan and that's when he was diagnosed," said Wilson-Kraft.
Payton was diagnosed with Hydrocephalus, which is an incurable, brain disease.
"There was a lot of fear, unknowing what was going to happen and concern for him," said Wilson-Kraft.
September is National Hydrocephalus Awareness month. Payton's mom is raising funds with arts and crafts with the hope of one day finding a cure.
"The only thing we can do is pray everyday there's no infection," said Wilson-Kraft.
In the meantime, a shunt was placed in Payton's brain.
"It's in the center of his head, that goes down his neck into his stomach and drains the fluid out," said Wilson-Kraft.
Payton considers himself a fighter, but he says every now and then his shunt hurts him. He vows to never give up and to continue educating others about his condition.
"I hope one day that there will be an end to this," said Payton.
In her spare time, Payton's mom, Sarah Wilson-Kraft, spends her time crafting to help fundraise for a cure to Hydrocephalus. She makes scarves, wreaths, bracelets, ribbons and bows, rugs and tu-tu's. To check out those items and help fundraiser for Hydrocephalus, click here.
To donate to Payton and help fund a cure for Hydrocephalus, click here.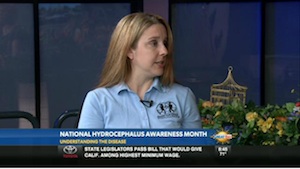 FRESNO, Calif. (KMPH) –

Carrie Awbrey, California Chapter Director for the Pediatric Hydrocephalus Foundation, visited Great Day to talk about a perilous condition more commonly known as "water on the brain."
The mission of the Pediatric Hydrocephalus Foundation is to educate the community by raising the level of awareness about this brain condition.
The PHF will also provide support to the families, friends and children who are diagnosed with Hydrocephalus.
The PHF will raise money for and work with the medical community in searching for a cure and additional treatment options for those with Hydrocephalus.
The PHF, Inc. is a non-profit 501 (c) (3) charitable organization and as such, all contributions are tax deductible to the extent allowed by law.
Additionally, the PHF will advocate on behalf of the members of the Hydrocephalus community and work with policy makers at the State and Federal level to raise awareness and push for more research and support in our fight against Hydrocephalus.
As part of the PHF's Hydrocephalus Awareness Over America (HAOA) campaign, today, Saturday, September 21st is the 1st ever Hydrocephalus Awareness Day in Hawaii!!
Congratulations to PHF State Chapter Director's Shaula Tualaulelei & Amanda Klebe in getting this done, and to Governor Abercrombie for his participation: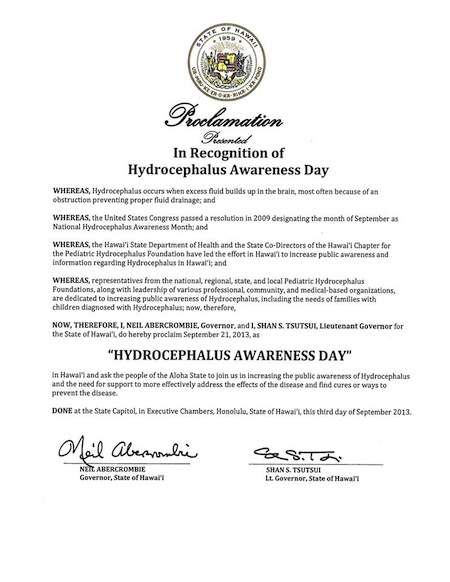 WASHINGTON– Congressman Leonard Lance (NJ-07) issued the following statement in support of September as National Hydrocephalus Awareness Month.
"Today we recognize September as National Hydrocephalus Awareness Month. For too long, little attention has been paid to hydrocephalus.
This condition can occur at any age and affects an estimated one million Americans.
In fact, one out of every 500 babies in the United States is born with hydrocephalus, making the condition the leading cause of brain surgery in children. Additionally, an increasing number of our veterans are developing post-traumatic hydrocephalus as a result of brain injuries suffered on the battlefield.
Currently, there is no single known cause of hydrocephalus or ways to prevent or cure the condition.
The National Institute of Neurological Disorders and Stroke is currently conducting research related to hydrocephalus prevention and treatment. However, more must be done at the community level to educate the American people about this surprisingly prevalent disorder.
Recognizing the month of September as National Hydrocephalus Awareness Month will bring this disease to the public's attention and, I believe, will encourage the discussions necessary to address more effectively the devastating effects of this disease and provide support to families who live with it every day. Today I commend the hard work of the Michael and Kim Illions of Woodbridge, New Jersey for their advocacy on behalf of their son, Cole.
I am certain that with federal support for additional research we can develop a better treatment, and eventually a cure, for those suffering from hydrocephalus and help them live healthier, fuller lives."
In the House of Representatives, Lance is a founding member and co-chair of the Congressional Hydrocephalus Awareness Caucus and actively works to raise awareness of the disease.
In the photo: Rep. Lance talks with Cole Illions of Woodbridge (NJ) whose parents Michael and Kim have worked tirelessly to educate members of Congress and the public about Hydrocephalus.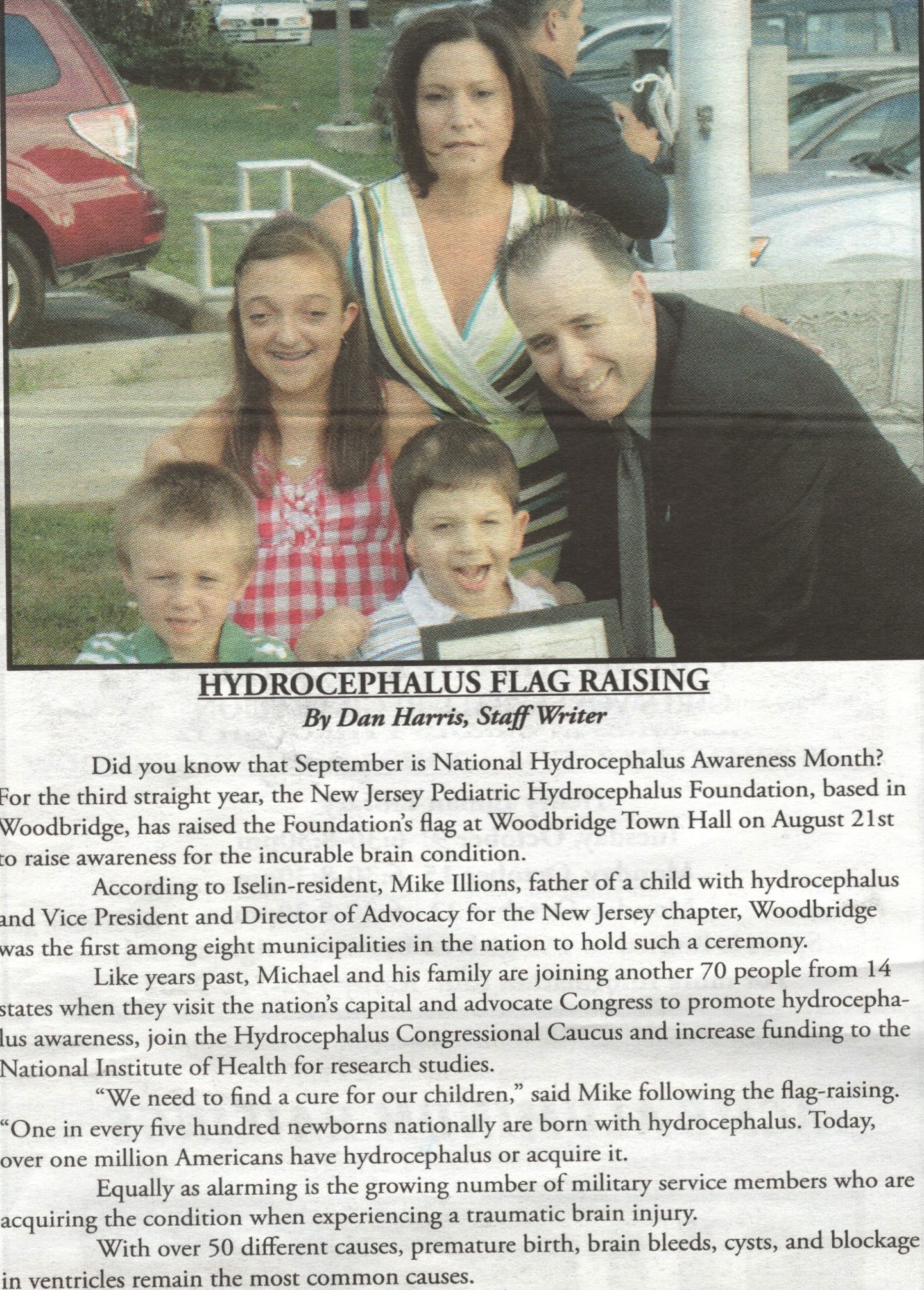 Featured in picture; Jeffrey W., Ally J., Cole Illions & PHF President Kim Illions & Vice President & National Director of Advocacy Michael Illions
PHF Nebraska held a fundraising event to celebrate the start of National Hydrocephalus Awareness Month on September 1st. The event was previewed by a local newspaper that in of itself raised awareness about Hydrocephalus: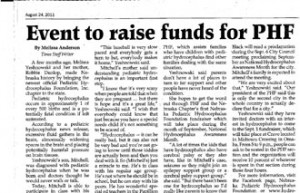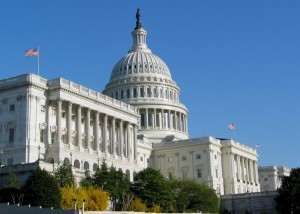 The Pediatric Hydrocephalus Foundation will be hosting a Hydrocephalus Awareness Day on Capitol Hill event on Friday, September 23rd, thanks to the Congressional Pediatric & Adult Hydrocephalus Caucus, chaired by Congressman Leonard Lance- (NJ), and Congressman Tim Walz- (MN). Parents of children with Hydrocephalus, teens and adults with Hydrocephalus, and members of the Medical Community will make presentations and tell their stories to Members of Congress and their staff. The Hydrocephalus Awareness event on Washington, DC is the first of it's kind for the Hydrocephalus Community and the PHF is proud to be able to organize it. Immediately following the event, we will be walking the Halls of Congress and meeting with our individual Congressional Representatives for one on one discussions. For more information please email mike@hydrocephaluskids.org.