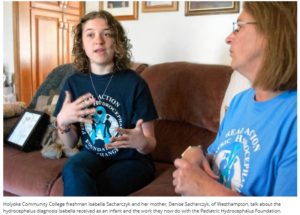 WESTHAMPTON MA — "Water on the brain."
These are the words that echoed in Denise Sacharczyk's mind on one of the worst days of her life.
A doctor called to tell her that her newborn daughter, Isabella, had hydrocephalus, the buildup of fluid in the brain. The 2-month-old had fought for her life from bacterial meningitis and wasn't expected to live. The infection led to a stroke, which led to the fluid. A deadly amount of pressure has risen inside the child's skull.
Isabella was rushed by ambulance to Boston for brain surgery, leaving her mother and father, Kenneth, distraught. Doctors said she would never talk or walk. They questioned whether she would ever see or hear.
"They told us that we should probably think about putting her in a home for kids like her," says Sacharczyk. "We chose not to do that, naturally."
That was 19 years ago and Isabella Sacharczyk is still here. A freshman at Holyoke Community College, she lives with her family in Westhampton. She also lives with hydrocephalus which never went away. She has undergone 23 brains surgeries, so far, but there is no cure. The fluid is not exactly water, but more like a saline, that collects around the brain. It creates constant pain in her head.
"She has lived such a life of pain, even just trying to go to school can be really hard," says her mother.
Isabella Sacharczyk looks like an ordinary teenage girl, petite with wavy brown hair down to her shoulders. She has exceeded all expectations. She not only walks and talks, she plans to pursue a doctorate in computational biology after she completes her undergraduate studies in computer science. One day she hopes to work alongside researchers in the laboratory at Boston Children's Hospital to help find a cure for hydrocephalus. In the meantime, she and her mother hold regular fundraisers in conjunction with the Pediatric Hydrocephalus Foundation, an organization based in New Jersey to advance research for children; they have a crafts fair scheduled for Saturday at Eastworks in Easthampton (See box below).
"I've made it my mission to hopefully be part of the team that cures hydrocephalus or finds better treatment," Isabella says.
A lifetime of misery
Hydrocephalus affects more than 1 million Americans in every stage of life, from infants to the elderly. One to two of every 1,000 babies are born with it, making it as common as Down's syndrome, according the the Hydrocephalus Association, an organization based in Maryland.
"There are approximately a hundred reasons why someone might develop the condition," says Dr. Thomas Kaye, Chief of Neurosurgery at Baystate Medical Center in Springfield. It most often affects people at the end or beginning of life, coinciding with conditions like birth trauma or dementia.
Most healthy people's brains produce two cups of fluid every day that is then absorbed back into the body. When the natural absorption process goes haywire, the typical treatment is surgery to implant a mechanical system including a valve and tubing inside the brain to drain fluid to another part of the body, often to the lining around the stomach or the lungs. But it's not uncommon for these systems to fail, says Kaye.
"The (tubing) that they put in is basically a Band-Aid — it's a mechanical device that has the highest failure rate of all mechanical devices put into a body," Denise Sacharczyk says.
Isabella has spent a large percentage of her young life in hospital beds. She's had thousands of MRIs and CT scans. Sometimes the tubing that drains fluid into other parts of her body will start to deteriorate, catch on scar tissue, and Isabella will start to get sick. Her mind goes foggy, she can't read, or concentrate. She gets tremors in her legs, her eyes become bloodshot.
"Bella lives every day with the uncertainty that at any moment her shunts could fail," Denise Sacharczyk says. They could break, become infected or clogged, which means she is being rushed into surgery — brain surgery — again, she says.
Isabella recalls one particularly rough year: "I had six surgeries, back to back within months of each other."
In ninth grade, at Hampshire Regional High School in Westhampton, Isabella would regularly take refuge in the nurse's office, often spending the entire day there. Sometimes her sister, Victoria, 16, would help her with school projects when she wasn't feeling well. In 10th grade, the pressure inside her skull caused her brain to press onto her spine causing hemorrhaging. After an emergency surgery to push her brain back up she woke up and couldn't walk. She spent the next 10 months regaining her motor skills. She still has to use a cane. And every day she remains vigilant, not knowing if the drainage system in her brain will fail.
Moved to action
Despite all of this, Isabella Sacharczyk has found a bright spot related to her disease — a passion to dedicate her life to finding a cure and better treatments that will help others.
Four years ago, when the family was looking for support, they connected with the Pediatric Hydrocephalus Foundation. Through the organization they were able to meet other families who have children with hydrocephalus. And now, as Massachusetts state chapter co-directors, the Sacharczyks host regular events to raise awareness and money to find a cure. So far they have held three annual walks at Hampshire Regional High School, with the most recent one in September. They also hold an annual carnival-themed fundraiser in New York state where they have family.
Last year's fundraisers raised $12,000 for research at Boston Children's Hospital. One of the doctors from the hospital attended the walk at Hampshire Regional and invited Isabella to visit the laboratory in Boston to shadow the researchers. She spent last summer observing their work.
In addition to holding fundraisers, mother and daughter have traveled to Washington D.C. to lobby for more funding to study the disease.
"We go and we storm Congress with all the folks from across the country," Denise Sacharczyk says.
Isabella still has some difficulty with balance and spasticity in her legs, but it's been two years since the drainage system in her brain has failed, the longest she has gone between operations since her first one at 2 months old.
Her mother often thinks of the grim prognosis doctors gave her newborn.
"I think about that all the time — being that scared, brand new mom 19 years ago in the hospital. Hydrocephalus has this huge stigma that your child is not going to do anything, but our children are growing up and doing wonderful things."
"She is my miracle girl."
Lisa Spear can be reached at Lspear@gazettenet.com
Shop for a Cure
A craft and vendor fundraising event to benefit hydrocephalus research.
When: Saturday, 10 a.m. to 4 p.m.
Where: Eastworks 116 Pleasant St., Easthampton
What: Vendors will sell handmade crafts like crocheted scarfs and quilted flowers to help fund hydrocephalus research at Boston's Children's Hospital.
Contact: Call 413-246-9725 for more information.
To learn more about pediatric hydrocephalus, visit www.HydrocephalusKids.org.
Source: