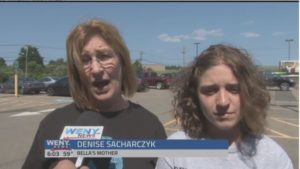 HORSEHEADS, N.Y. (WENY) — The community came together to help raise money for a teenage girl battling an incurable brain condition.
     On Sunday, the third annual "Bella's Journey" fundraising event was held at Raymour and Flanigan in Horseheads.
     
     The event was created by the family of Bella Sacharczyk, who is an eighteen-year-old girl battling with Hydrocephalus. 
     
     Throughout the day there were many things for visitors to do to raise money and awareness for the condition. 
     "We're having a basket raffle, all donated by different people in the community," said Bella's Mother and the Massachusetts State Chapter Director for the Pediatric Hydrocephalus Foundation, Denise Sacharczyk. "We have a bounce house and food. We had the radio station was here today and we're just raising money for Hydrocephalus for the awareness of Hydrocephalus and for the research."
     Since Bella has been diagnosed with the condition, she has had twenty-three brain surgeries and countless hours of physical therapy to learn how to walk again. 
     If you want to know more about the condition, visit http://www.hydrocephaluskids.org. 
Source: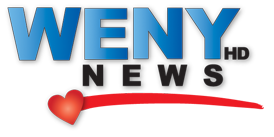 "Bella's Journey" is coming back to the Southern Tier.
Raymour & Flanigan, in Horseheads, will host the second annual local fundraising event in partnership with Pediatric Hydrocephalus Foundation and 17-year-old Bella Sacharczyk.
The teenager lives with hydrocephalus, an incurable brain disease. She has survived 23 brain surgeries. Sacharczyk's mission of raising awareness and money to fund research projects has resulted in a $7,000 research grant to one of the nation's top pediatric hospitals.
The local fundraiser will be held from noon to 5 p.m. July 10 at the store, 137 Colonial Drive in Horseheads. There will be live music, face painting, games, activities, bake sales, raffles, silent auctions and vendors.
The Pediatric Hydrocephalus Foundation, an all-volunteer, nonprofit charitable organization, educates the community by raising the level of awareness about hydrocephalus, and provides support to families, friends and children affected by this brain condition.
The PHF also raises money for and works with the medical community in searching for a cure and additional treatment options for those with hydrocephalus. Additionally, the PHF advocates on behalf of the members of the hydrocephalus community, and works with policy makers at the state and federal levels to raise awareness and push for more research and support in the fight against hydrocephalus. All donations are tax-deductible. Visit HydrocephalusKids.org for more information.
Follow Kelly Gampel on Twitter @theSGphotos or on Instagram @kelly.gampel
Source:


A 16-year-old suffering from the incurable brain condition fundraises for a cure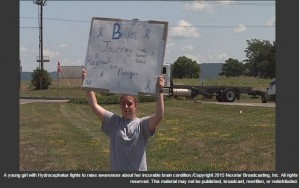 HORSEHEADS, N.Y. (18 NEWS) –
Bella Sacharczyk is 16 years old. She's smart, funny, and charismatic. A typical teenage girl. You would never guess that she's had 20 brain surgeries, but Bella has Hydrocephalus, a incurable condition that involves water in the brain.
On Sunday, she joined together with her family and friends to raise awareness about the disease and fundraise for a cure.
"I feel it's important for everybody to know about it and to raise awareness, just so that one day some children like me won't have to suffer," Bella said.
"We're just trying to be out there anyway we can to raise awareness to raise funding for a cure," Denise Sacharczyk, Bella's mother, said. "There is no cure for children or people with Hydrocephalus."
Even though people living with Hydrocephalus can experience some pretty serious physical and mental complications, Bella's family wants people to know her struggles don't define her or limit her.
"Hydrocephalus is, it can be scary, but doesn't have to be scary… that the children like Bella, she does everything, she's not afraid," Denise said.
"I like to do my schoolwork, and I like to educate people about Hydro, hang out with my family," Bella said.
Bella is grateful for all the support she got from our community.
"That everybody came here to support me… I feel loved and it's the best feeling in the world."
Source:


Pediatric hydrocephalus is treatable but has made it difficult for girl to walk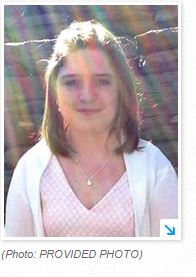 A benefit is planned later this month in Horseheads for a 16-year-old girl with pediatric hydrocephalus, an incurable but treatable brain condition that has made it hard for her to walk.
Raymour & Flanigan and the Pediatric Hydrocephalus Foundation will host "Bella's Journey" from noon to 5 p.m. Aug. 16 at the furniture store, 137 Colonial Drive in Horseheads. It will feature live music, face painting, games, activities, a bake sale, raffles and more. Prizes included a $100 Raymour & Flanigan gift card. All proceeds will benefit the foundation.
The benefit is being held for Isabella Sacharczyk, 16, from Westhampton, Mass., who will be there with her mother, said Michael Illions, vice president and national director of advocacy for the foundation. Bella has made it her mission to raise money for the foundation, he said.
The foundation provides support those affected by hydrocephalus, seeks to raise awareness and works with the medical community to find a cure.
Bella's grandmother, Jeannine Zimmer of Horseheads, said she is friendly with Nicole Gulich, the former manager of the Raymour & Flanigan store in Horseheads who is now a district manager. Her son also has disabilities, she said.
Bella told Gulich her story and the amount of brain surgeries she has had, and this event was created from that connection, Illions said.
"She's had 20 brain surgeries. The last one she had," Zimmer said, "was to help her mind and her legs to work together. She can't walk well. She walks with a cane, and she does wear braces, but she doesn't wear them all the time."
Her granddaughter, who turns 17 next month, was 2 months old when she was first diagnosed with pediatric hydrocephalus, she said. "She got bacterial meningitis, which caused hydrocephalus," she said.
Hydrocephalus, also known as "water on the brain," is the accumulation of cerebrospinal fluid inside the brain, according to Johns Hopkins Medicine. This can be a very dangerous condition, as the normal production and recycling of spinal fluid throughout the neurological system is disrupted. There is no cure, but hydrocephalus can be treated surgically.
"She didn't go to school this whole last year after the surgery she had because she couldn't walk well enough to go, so she was tutored at home, and she did marvelous," Zimmer said.
"The sad part with Bella is she's gone to the same high school as kids that she grew up with," she said, referring to Hampshire Regional High School. "But when they found out that she had a disability, the kids stopped asking her to come over to their house. So she doesn't have a lot of friends, but she does have some friends. She's a homebody."
Follow Ray Finger on Twitter @SGRayFinger.
How to help
To make a tax-deductible donation, mail a check payable to the Pediatric Hydrocephalus Foundation to Kim Illions, Pediatric Hydrocephalus Foundation Inc., 66 Caroline St., Second Floor, Woodbridge, NJ 07095. Donations can also be made online by credit or debit card by clicking here.
Source: