Comments Off on PHF In The News: Colbert boy raising awareness about hydrocephalus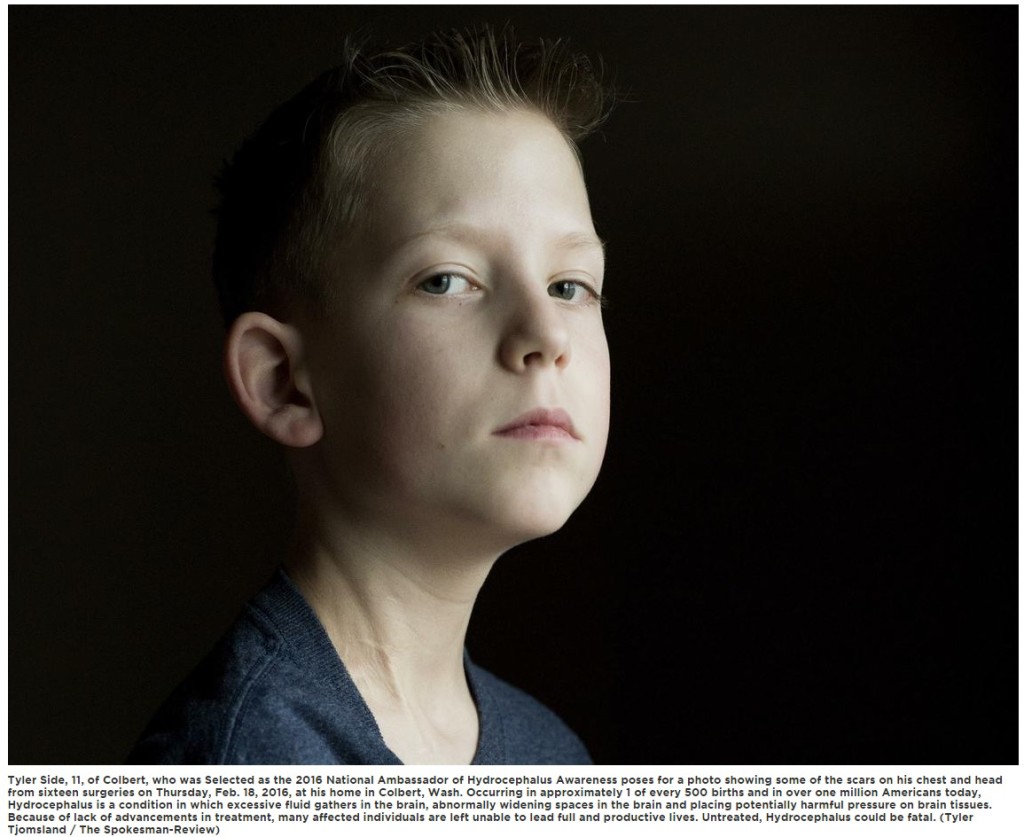 Tyler Side is a cheerful, social boy, who smiles often, but the 11-year-old's scars reveal a childhood studded with struggle.
Tyler has hydrocephalus, an incurable brain condition characterized by excessive cerebrospinal fluid in the brain's ventricles, which puts harmful pressure on the tissues of his brain. The scars are from the 16 life-saving surgeries the boy has endured due to the condition.
Now, the Colbert boy will use his story to help others with hydrocephalus. The Pediatric Hydrocephalus Foundation recently selected him as one of two 2016 national ambassadors for pediatric hydrocephalus awareness.
"I feel excited," he said. "I hope that the hydrocephalus foundation can find a cure for it."
Tyler will be featured in advertising campaigns and promotional materials heading into the eighth annual National Hydrocephalus Awareness Month in September. He and his family also will travel to Washington, D.C., for National Hydrocephalus Awareness Day on Capitol Hill in August.
So many uncertainties
Tyler was born at just 28 weeks gestation at Ramstein Air Base in Germany, where the Sides were stationed. The pregnancy had been healthy and normal, but placental abruption led to an emergency cesarean section and Tyler was born 11 weeks early, weighing a mere 2 pounds 12 ounces. He was rushed to the neonatal intensive care unit and hooked up to a ventilator.
For many days, doctors didn't know if he would live. Imaging detected bleeding in his brain.
"It was scary," said his mother, Crystal Side. "It was very traumatic."
Despite the news, Side and her husband, Chris, remained hopeful that their baby would pull through, but they were uncertain what that would mean in the long run.
When there was no sign of increased bleeding, the family celebrated, although they learned Tyler might never walk or talk because of the damage.
At 20 days old, doctors diagnosed Tyler with post-hemorrhagic hydrocephalus. The family was flown back to the U.S. by a military medical evacuation flight, still wondering what the diagnosis meant for their family and new baby.
"Would he be able to do the things other kids do? Would he be able to lead a full and productive life? There were just so many uncertainties," Side said. "It was really difficult as a first-time parent."
Tyler would go on to have numerous surgeries in his first 10 weeks of life, including a bowel resection following a diagnosis of necrotizing enterocolitis, and the family endured many days in the NICU, hoping Tyler's progress wouldn't be set back by more surgeries or infections.
Although he is walking and talking today, Tyler is unable to do many of the physical activities kids his age do because of the condition and the risk of injury. He and his family were ecstatic to learn he was selected to represent the cause – an activity they could give a resounding "yes" to. Side said she hopes her son will see that there are other children like him.
"Having him be able to connect with them will be really special," she said.
More awareness needed
The causes of hydrocephalus are still not well understood. More awareness is needed, as well as better federal funding for research, said Michael Illinois, vice president and national director of advocacy for the Pediatric Hydrocephalus Foundation.
"Our goal is to provide funding to find better treatment options or help modify or update the current treatment options, while having an eye on one day finding a cure," he said.
To treat hydrocephalus, a neurosurgeon typically places a shunt system in the body to redirect excessive fluid to other parts of the body, where it is reabsorbed.
Shunts are imperfect systems, and complications – mechanical failure, infections, obstructions, or the need to lengthen or replace the catheter – can result in more surgery, according to the National Institute of Brain Disorders and Stroke.
The condition can be congenital or acquired. Symptoms vary depending on factors such as age and disease progression. In infants, a rapidly increasing skull size is a sign of hydrocephalus, as well as vomiting, sleepiness, irritability and seizures.
The disorder occurs in up to 1 in 500 births and affects 1 million Americans.
Untreated, hydrocephalus can be fatal, and despite medical advances, many with the condition remain unable to lead full and productive lives, according to the foundation.
The all-volunteer nonprofit foundation advocates on behalf of members while working with policy makers at state and federal levels to push for more research and support in the fight against hydrocephalus.
It has 30 state chapters, including in Washington. Since 2010, it has awarded $375,000 in grants and donations to hospital and research centers around the nation.
'It's been a long journey'
Despite the challenges he has faced, Tyler has "such a great personality," his mother said.
"Tyler is such a happy kid and always so pleasant," she said. "All of his friends, teachers, everyone just loves him."
She said, "it's just amazing how well he's doing."
"He's done great," she said. "It's been a long journey on some things. To look at him today, most people would never know that he's been through what he has."
Source:

Comments Off on This incurable brain condition affects 1 in 500 newborns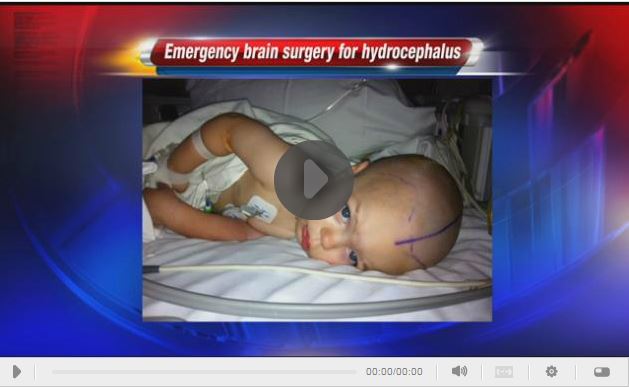 KHQ.COM – Have you head of Hydrocephalus? If you haven't, it's not because it's uncommon. It's actually more common than down syndrome and 30 times more common than cystic fibrosis. Hydrocephalus just doesn't get the same attention in the media or as much public funding as other conditions. Hydrocephalus affects 1 in every 500 newborns and it's the number one reason infants and children have to have brain surgery.
Hydrocephalus is caused when too much cerebrospinal fluid builds up in the brain. Normally, this fluid cushions the brain but if you have too much, it puts harmful pressure on the brain.
For more information on hydrocephalus, click here: http://www.hydrocephaluskids.org/wordpress/?page_id=8
Kandice Curtis knew something was wrong with her son Wes one morning in July 2014. Wes was diagnosed with hydrocephalus and underwent emergency brain surgery. Kandice has since made it her mission to educate herself as much as possible. She has become the director for the Washington chapter of the Pediatric Hydrocephalus Foundation and hopes to be able to help other parents of children with hydrocephalus feel encouraged, empowered and understood as they all watch over their hydro heroes.
"On the morning of July 16, 2014, Wes woke with a 103.2° fever, very lethargic and unsteady on his feet. I immediately took him into his pediatrician. His pediatrician almost sent us home with an antibiotic until he saw Wes lose his balance when walking to the door. This concerned him and he admitted Wes to the hospital to be observed and get blood work done. His white blood cell count was way high and a few other levels were off. Because of the fever and balance issues, they ordered a CT scan. The scans showed a lot of excess fluid in Wes' brain.
At the time we lived in a small town on the border of Texas and Mexico and the hospital there didn't have the technology or capabilities to deal with severe cases, so Wes was airlifted to the children's hospital in San Antonio. We also had a 5 week old baby at the time and had no family living in Texas. It was the scariest thing in the world and near impossible to handle without any family.
Wes had a MRI done in San Antonio which showed the fluid and also a mass the size of a tennis ball in the center of his brain. It was at this time that we called our parents and they were on the next flight out of Spokane and arrived early the morning of the 17th. That was the longest 24 hours of my life. Because I had a 5 wk old I wasn't allowed in the PICU with Wes and had to get a hotel by myself for the night while Matt stayed at the hospital with Wes.
After a few more tests they knew that the mass was not a tumor and was a fluid filled cyst, which was the best thing it could have been. However, it was so large and in the worse location possible, right in the middle and very difficult to get to and almost impossible to remove. On July 22nd Wes had brain surgery to have a shunt placed in his brain. A shunt is a catheter that drains the fluid in Wes' brain down to his belly where it gets absorbed by his body. He was diagnosed with hydrocephalus.
The doctors think Wes was born with the cyst and it just got so large that it blocked the flow of his cerebral spinal fluid and caused the hydrocephalus. It's called obstructive hydrocephalus. Wes will have the shunt for the rest of his life.
We moved back to Spokane in November of 2014. My husband Matt and I are both originally from Spokane and we needed to be closer to family and better healthcare for Wes. Matt got a compassionate transfer through the Border Patrol and now does that here in Spokane. Wes has access to better healthcare here than he'd ever get in Del Rio, TX. He now goes to physical therapy once a week, sees an ophthalmologist every six months (the optic nerves will be the first sign of increased pressure), and has regular check ups with his neurosurgeon. We would have had to drive 3 hours to any of those doctors living in Texas and in an emergency, that drive could have been the difference between life and death.
Now, almost a year later Wes has had 5 MRIs and 3 CT scans. He has not needed another surgery but we are constantly in fear of that possibility. Shunts are imperfect devices and have received very little advancements since they were first invented nearly 60 years ago. Infection and shunt failure is very common.
Signs that the shunt is failing include vomiting, fatigue, irritability, fever, headaches, among a few others. However, headaches are also very common in shunt patients. Wes suffered from chronic headaches for the first 6 months after his surgery. Our new surgeon in Spokane determined they were being caused by the shunt not draining fast enough. Wes has an adjustable valve which can change the rate at which the fluid drains. After changing the setting to a slightly faster flow, Wes' headaches went away. That was in December of 2014 and he hasn't complained of a headache since.
We are currently waiting to hear back from a group of surgeons in Seattle. Our surgeon here in Spokane sent off Wes' scans to get a second opinion. Even though Wes is stable and is progressing with his PT, the size and location of the cyst still concerns the surgeon. Wes will most likely need surgery in the future to address the cyst but for now he is doing great!
I'm a nervous wreck all the time though, watching him closely, making sure he doesn't fall and hit his head, and watching for signs of shunt failure. Everyone thinks I'm overprotective and I'll probably get better with time, but it's almost impossible not to worry all the time.
The hydrocephalus has caused Wes to be a little behind developmentally. He's not where he should be with his motor and fine motor skills. He didn't even start walking until he was almost 19 months old. He still has balance issues, he's unable to jump, and he's a bit slower than children his age. He turned three last month and is just now learning to run but is still a little cautious.
Every week we see progress with physical therapy. Cognitively he's right where he needs to be, maybe even a little ahead. He's very smart, he knows all his letters, can count to 20, backwards from 10 and he can hold a conversation. The cyst is just in an area of his brain that affects his balance which then affects, walking, running, jumping, etc.
Wes will have the shunt for the rest of his life and because it can be easily damaged and clogged, he will not be able to play contact sports such as football, hockey and basketball. One hard fall could not only damage the shunt and catheter but also rupture the cyst which could be fatal. So you can understand why I'm a bit paranoid.
Even though this has been the hardest thing I've ever gone through and breaks my heart that my baby has to live with this, Wes' case is actually one of the better ones. Each case of Hydrocephalus is different and varies in severity. About one in every 500 children born is diagnosed with hydrocephalus. Hydrocephalus is also the leading cause of brain surgery in children. It's just rarely talked about and underfunded because its overshadowed by other serious conditions.
Shortly after Wes' surgery I joined the Pediatric Hydrocephalus Foundation (PHF) and their efforts in raising awareness and funds for hydrocephalus research. After Wes was diagnosed, I felt so alone and uninformed and turned to the internet to find answers, wanting to connect with others going through similar situations. I came across the PHF and received immense support through medical advice, shared stories, photos, etc. It was nice meeting parents who had children with the same condition and living with the same fears. I started talking to the President and after a while decided to become a state director and start a chapter here in Washington.
A lot of people haven't heard of Hydrocephalus or our foundation, so our goal is to educate the community about Hydrocephalus and raise as much money as possible for Hydrocephalus research projects!"
– Kandice Curtis
Source: