Comments Off on PHF In The News: Easthampton fundraiser raises money for research into debilitating condition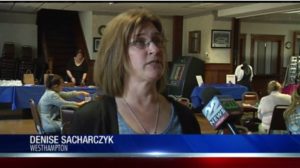 EASTHAMPTON, Mass. (WWLP) – One Hampshire County parent prays that one day science finds a cure to the disease that's afflicted her daughter since birth.
Denise Sacharczyk of Westhampton organized a fundraiser Sunday at the American Legion Post 224 in Easthampton. Her daughter suffers from Hydrocephalus, or as it is more commonly called, "water on the brain."
Sacharczyk told 22News, "My daughter has had 23 brain surgeries because of that. She lives with chronic pain, any day not being able to walk. A couple of times, she's had surgeries and learned to walk all over again."
Sacharczyk is active in the Pediatric Hydrocephalus Foundation on behalf of her daughter and other young people suffering from "water on the brain."
It's estimated that out of 1,000 newborns, two will be afflicted by this disabling condition.
Source: