High School Teenager Collette Umar talks about her experience on Capitol Hill for the Hydrocephalus Awareness Day event
Read the full story: Last Friday, September 23, Glen Ridge High School student Colette Umar delivered a speech in Washington, DC at the first Congressional Adult and Pediatric Hydrocephalus Caucus.
The caucus, was co-chaired by Congressman Leonard Lance and Congressman Tim Walz along with the Pediatric Hydrocephalus Foundation. It was held in the Cannon building and was attended by members of Congress, aides, medical experts, foundation personnel and families affected by hydrocephalus.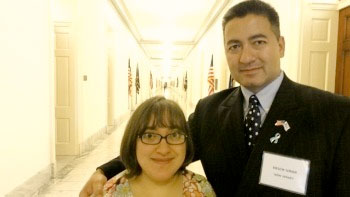 Collette and her father Erich Umar.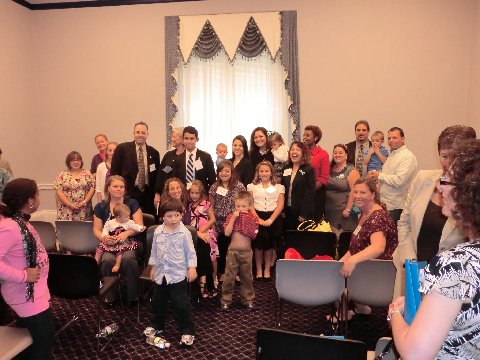 On Friday, September 23rd, the first ever 'Hydrocephalus Awareness Day on Capitol Hill' was held in Washington, DC. The Pediatric Hydrocephalus Foundation, Inc., in conjunction with the Congressional Pediatric & Adult Hydrocephalus Caucus, sponsored the event. New Jersey Congressman Leonard Lance and Congressman Tim Walz of Minnesota started the Hydrocephalus Caucus in January 2011.
Families, children and adults living with Hydrocephalus, Neurosurgeons, and Physicians were among the over 30 speakers who presented their stories to members of Congress and their staff.
Congressman Leonard Lance opened up the event with a moving speech to those in attendance dealing and living with Hydrocephalus. Congressional staffers represented Members of Congress who could not join the event in person, including representatives for Congresswoman Michele Bachmann, Congresswoman Renee Ellmers, Congresswoman Judy Biggert, Congressman Steve Rothman and Congressman Joe Crowley.
Congressman Dan Beshnick of Michigan who stopped by to personally meet with residents from his home State who were speaking at the event, including the Michigan State Chapter Director of the PHF, Inc., Jason Adams and his son Hawke, who has Hydrocephalus.
The event was attended by families from across the country and at least 9 different states including California, Colorado, South Carolina, Florida, Washington, New York, New Jersey, Michigan and Nevada.
Most of the families traveled to Washington, DC at their own expense or held fundraisers to make the historic trip. "The PHF Day on Capitol Hill has been a long time dream for me that came to fruition. Being able to speak and listen to those that spoke that day, I am enlightened. I feel very fortunate to have the support of the Hydrocephalus Community, PHF members, and those members of Congress who continue to support a resolution to the Hydrocephalus awareness and funding crisis. We still have a lot of work to do, but if we keep up this momentum, we will accomplish all of the goals we set forth," said Kim Ruiz, the California State Chapter Director of the PHF.
The PHF, Inc. was represented by several of their State Chapter Directors including Ashley Fallis of Colorado, Amanda Pierce of South Carolina, Shay Hague of Florida, Cassandra Thew of New York, Jessica Garner of Western New York, Jason Adams of Michigan and the Founding members of the PHF Inc., Kimberly & Michael Illions, Mary Ann & John D'Oria, Michelle & Mark Janson & Jennifer Westdyke, all from the New Jersey.
Immediately following the event, the attendees went on to visit with each of their Congressional Representatives to discuss the importance of more funding for Hydrocephalus research and to increase awareness of this incurable brain condition.
Hydrocephalus affects 1 in every 500 newborns and over 1MILLION Americans today. If left untreated, Hydrocephalus would be fatal. The only treatment is the placement of a shunt in the brain that helps divert and drain the excess fluid to the abdomen. Hydrocephalus can also be acquired, most commonly due to a traumatic brain injury. Congresswoman Gabrielle Giffords, who suffered a brain injury in January, developed Hydrocephalus and was shunted in May.
The Pediatric Hydrocephalus Foundation, Inc., is the nation's largest organization dealing solely with the support, advocacy, education, and funding for research of Pediatric Hydrocephalus, the number one cause for brain surgeries in children.
For more information please visit us at www.HydrocephalusKids.org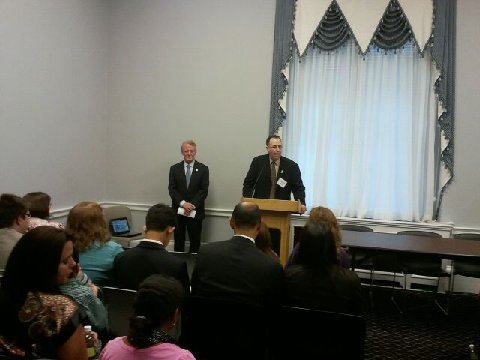 PHF's Michael Illions introduces Congressman Leonard Lance to begin the FIRST EVER Hydrocephalus Awareness Day on Capitol Hill.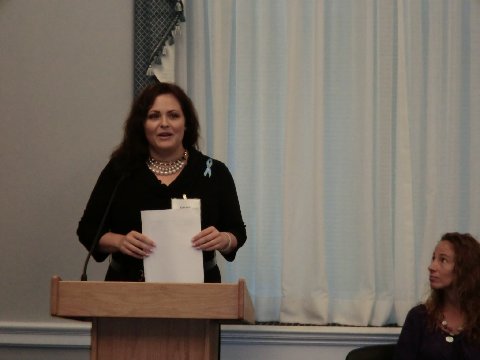 PHF's State Director Kim Ruiz of California tells her son Joey's story about living with Hydrocephalus as Michelle Janson of New Jersey looks on.
Michigan Congressman Dan Benishek, who is also a Doctor, stops by the event to spend some time with Michigan's PHF State Director Jason Adams, who spoke later on about his son Hawke.