Glen Ridge resident Colette Umar seems like a typical twenty year old. She hangs out with friends, attends school and even has a plan for after graduation. "I've always wanted to work with children and I've always liked school. I plan to study early childhood education and then work with little kids." A stark difference between Colette and most of her peers, though, is that she has undergone fifteen brain surgeries to help control the excess cerebral spinal fluid collecting around her brain. Colette has hydrocephalus.
According to the National Institute of Neurological Disorders and Stroke, it's estimated that one to two out of every thousand babies is born with hydrocephalus. In infants, this condition can cause symptoms like: an unusually large head, vomiting, irritability and seizures. It's often congenital, though it can develop at any age for a variety of reasons. The most common causes of hydrocephalus include: spina bifida, a tumor on the spinal cord or brain, certain infections and traumatic brain injuries. It can lead to neurologic issues and even death if not treated.
Many parents learn of their child's diagnosis while still pregnant or just after birth. Colette's parents found out that she had hydrocephalus while she was in utero. Her first surgery, when a shunt was inserted into her brain to redirect the excess spinal fluid to a part of her body that could absorb it, took place when she was merely one day old. Her fifteenth surgery was completed when she was in the second grade. "Most of my surgeries were shunt revisions," she explained, "which is normal for people with this disorder. Shunts aren't perfect and they don't last forever." The Pediatric Hydrocephalus Foundation (PHF) website asserts that an average of 40,000 shunt operations occur each year.
Colette explained that aside from learning delays, hydrocephalus has not interfered with her life too much. Most of her friends know about her condition and are willing to learn more. She also hasn't had as many surgeries as some others with the condition, so she's able to see her friends more. She added, "In more severe cases, people don't always know how to react to the person with hydrocephalus. And if they have many surgeries, they aren't around to build those friendships. They spend a lot of time in the hospital."
It's this lack of understanding that has spurred Colette's advocacy efforts. While in middle school, she realized that she wanted to learn more about this condition and she wanted others to know about it, too. In high school, she initiated faculty dress down days to spread awareness and then started participating in walks for the PHF. She has also raised money for PHF by making and selling jewelry and decorated flip flops. Twice, she has travelled to Washington DC with PHF to educate members of Congress and to try to secure research funds. During her last trip, she along with other NJ residents, met with staffers from Senator Booker and Senator Menendez's offices and with a representative of Congressman Payne. Colette added "I hope that all this hard work will result in me seeing a cure for hydrocephalus in my lifetime!"
If you would like to get involved, visit the PHF website to learn more or to donate.
Source:

Ohio Governor John Kasich signed a Resolution last week recognizing September 2014 as Hydrocephalus Awareness Month throughout the State of Ohio.
Special thanks to PHF Ohio State Chapter Director Ashley Pope for making this happen!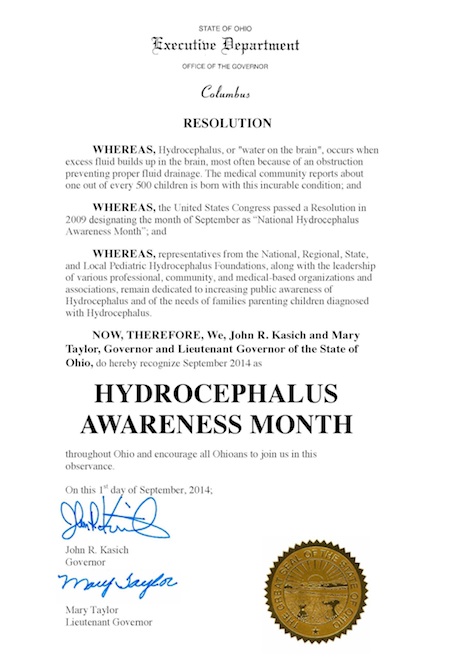 High School Teenager Collette Umar talks about her experience on Capitol Hill for the Hydrocephalus Awareness Day event
Read the full story: Last Friday, September 23, Glen Ridge High School student Colette Umar delivered a speech in Washington, DC at the first Congressional Adult and Pediatric Hydrocephalus Caucus.
The caucus, was co-chaired by Congressman Leonard Lance and Congressman Tim Walz along with the Pediatric Hydrocephalus Foundation. It was held in the Cannon building and was attended by members of Congress, aides, medical experts, foundation personnel and families affected by hydrocephalus.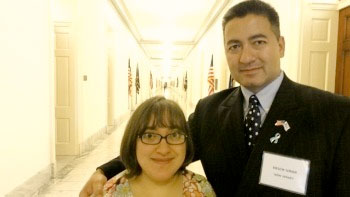 Collette and her father Erich Umar.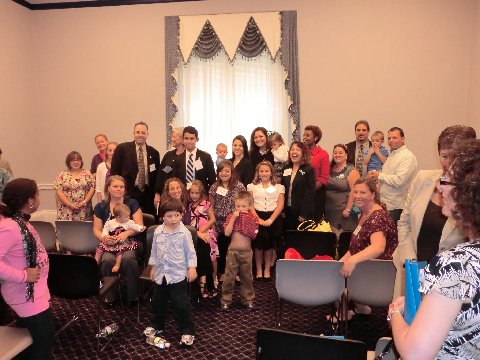 On Friday, September 23rd, the first ever 'Hydrocephalus Awareness Day on Capitol Hill' was held in Washington, DC. The Pediatric Hydrocephalus Foundation, Inc., in conjunction with the Congressional Pediatric & Adult Hydrocephalus Caucus, sponsored the event. New Jersey Congressman Leonard Lance and Congressman Tim Walz of Minnesota started the Hydrocephalus Caucus in January 2011.
Families, children and adults living with Hydrocephalus, Neurosurgeons, and Physicians were among the over 30 speakers who presented their stories to members of Congress and their staff.
Congressman Leonard Lance opened up the event with a moving speech to those in attendance dealing and living with Hydrocephalus. Congressional staffers represented Members of Congress who could not join the event in person, including representatives for Congresswoman Michele Bachmann, Congresswoman Renee Ellmers, Congresswoman Judy Biggert, Congressman Steve Rothman and Congressman Joe Crowley.
Congressman Dan Beshnick of Michigan who stopped by to personally meet with residents from his home State who were speaking at the event, including the Michigan State Chapter Director of the PHF, Inc., Jason Adams and his son Hawke, who has Hydrocephalus.
The event was attended by families from across the country and at least 9 different states including California, Colorado, South Carolina, Florida, Washington, New York, New Jersey, Michigan and Nevada.
Most of the families traveled to Washington, DC at their own expense or held fundraisers to make the historic trip. "The PHF Day on Capitol Hill has been a long time dream for me that came to fruition. Being able to speak and listen to those that spoke that day, I am enlightened. I feel very fortunate to have the support of the Hydrocephalus Community, PHF members, and those members of Congress who continue to support a resolution to the Hydrocephalus awareness and funding crisis. We still have a lot of work to do, but if we keep up this momentum, we will accomplish all of the goals we set forth," said Kim Ruiz, the California State Chapter Director of the PHF.
The PHF, Inc. was represented by several of their State Chapter Directors including Ashley Fallis of Colorado, Amanda Pierce of South Carolina, Shay Hague of Florida, Cassandra Thew of New York, Jessica Garner of Western New York, Jason Adams of Michigan and the Founding members of the PHF Inc., Kimberly & Michael Illions, Mary Ann & John D'Oria, Michelle & Mark Janson & Jennifer Westdyke, all from the New Jersey.
Immediately following the event, the attendees went on to visit with each of their Congressional Representatives to discuss the importance of more funding for Hydrocephalus research and to increase awareness of this incurable brain condition.
Hydrocephalus affects 1 in every 500 newborns and over 1MILLION Americans today. If left untreated, Hydrocephalus would be fatal. The only treatment is the placement of a shunt in the brain that helps divert and drain the excess fluid to the abdomen. Hydrocephalus can also be acquired, most commonly due to a traumatic brain injury. Congresswoman Gabrielle Giffords, who suffered a brain injury in January, developed Hydrocephalus and was shunted in May.
The Pediatric Hydrocephalus Foundation, Inc., is the nation's largest organization dealing solely with the support, advocacy, education, and funding for research of Pediatric Hydrocephalus, the number one cause for brain surgeries in children.
For more information please visit us at www.HydrocephalusKids.org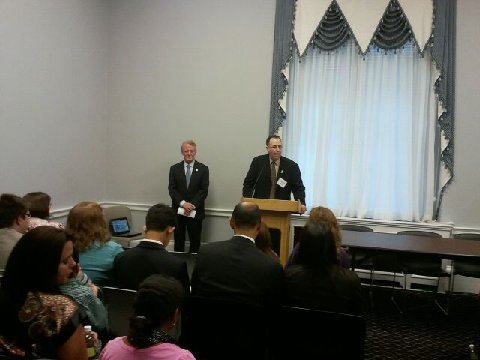 PHF's Michael Illions introduces Congressman Leonard Lance to begin the FIRST EVER Hydrocephalus Awareness Day on Capitol Hill.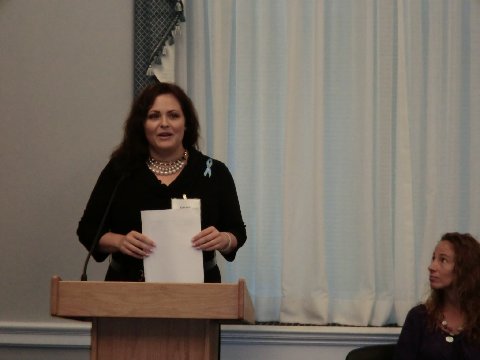 PHF's State Director Kim Ruiz of California tells her son Joey's story about living with Hydrocephalus as Michelle Janson of New Jersey looks on.
Michigan Congressman Dan Benishek, who is also a Doctor, stops by the event to spend some time with Michigan's PHF State Director Jason Adams, who spoke later on about his son Hawke.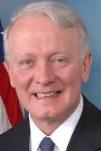 Dear Friends:
Thank you very much for your kind invitation to participate in today's flag-raising ceremony, which marks the 2nd occurrence of National Hydrocephalus Awareness Month. I regret that I am not able to join you this evening.